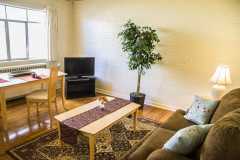 Casa de Luz - Great Apartments in Downtown LA!
Casa de Luz is a complex of beautifully maintained and quiet efficiency apartments in the heart of the business district. SORRY, NO SUMMER Short term...
Los Alamos
$ 795.00 USD
5/29/13
$650 rooms for rent; Los Alamos-near LANL (1 mile)
I have one 3000 square foot home with multiple bedrooms (eight in total), and multiple bathrooms (five in total), and washer and dryer. The high...
Los Alamos
$ 650.00 USD
2/4/19

Aspen Apartment - 1 BR / 1BA For Rent
These apartments are on Gold Street, and are conveinient to the laboratory and shopping. These are popular apartments and rent out...
Los Alamos
$ 750.00 USD
5/12/19

Aspen Apartments
Aspen Apartments offers over 125 apartments that include studio apartments near downtown at both 9th Street and 11th Street across fro the Municipal...
Los Alamos
-
6/20/19
Contemporary Santa Fe Home
Adobe style 2 bedroom, 2 bath home with attached garage. Low maintenance fenced front and back yards with drip irrigation. Great Santa Fe location,...
Santa Fe
$ 1,750.00 USD
8/19/19
Duplex 3BR, 1,5 bath 2108 41st St
Duplex 3 BR, 1 bath. Fenced back yard. Off-street parking place. Hardwood floors. Laundry washer and dryer. Close to...
Los Alamos
$ 1,500.00 USD
8/19/19