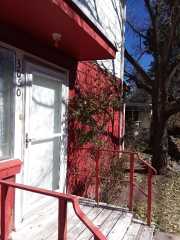 3BR, 2Bath, duplex at 3050 Walnut Street
3 bedroom, 2 bathroom duplex at 3050 Walnut Street near Aspen Elementary school. Recently renovated. Hard-wood floors. Large...
Los Alamos
$ 1,500.00 USD
2/24/20
Comfortable, COMPLETELY FURNISHED, Clean, Quiet
Great for consultants and other short term visitors. Available February 15, 2020. Utilities are included. Very clean and...
Los Alamos
$ 1,600.00 USD
2/22/20
SHORT term fully furnished 2BR condos LA downtown
Ellegant, fully furnished two bedroom condos in Los Alamos downtown for short term rent. Perfect home away from home for LANL new...
Los Alamos
$ 96.00 USD
2/13/20
3BR, 2 Bath, town house. Upgraded
Completely renovated duplex with 3 bedrooms, 2 bathrooms, and large backyard. Location is near LANL, high school, and Univeristy of New...
Los Alamos
$ 1,500.00 USD
2/13/20